Efficient. Proven. Proprietary.
Comet Bio's patented production process upcycles crop and foods leftovers– such as straw, leaves, and shells – into high-quality ingredients. The proprietary extraction process is innovative and differentiates us from other ingredient manufacturers. We ensure our products are of high quality by first partnering with farmers and food companies to source many organic and non-GMO leftovers.  These partnerships also benefit farmers and food companies by allowing them to profit and reduce waste while ensuring the highest quality for our products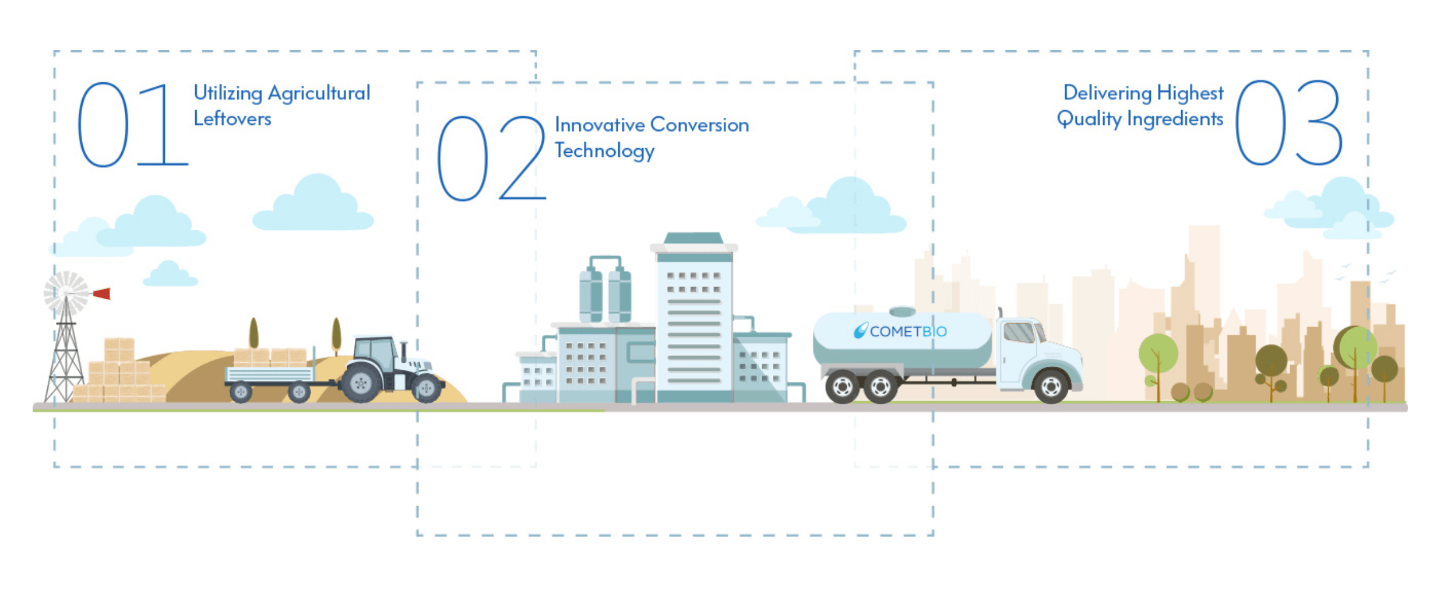 1
01. Upcycling Farm Leftovers
Comet Bio's process closes the loop on the food system by upcycling farm leftovers, improving the economics of food and beverage producers and the stewardship of farming.
2
02. Innovative Conversion Technology
Our proprietary, proven technology and novel engineering provide high quality products and economics at scale. We upcycle stalks, leaves, and shells into functional and healthy ingredients like sustainable sweeteners, a PREbiotic dietary fiber, animal feed, and industrial ingredients.
3
03. Delivering Healthy & Sustainable Ingredients
Comet Bio's ingredients are made for the supplements, food and beverage, animal nutrition, and biomaterials markets. Our ingredients are made from GM-free plants, and are consistently the highest grade of purity, healthfulness, and sustainability.
Contact us to learn more about our technology, process and opportunities for partnership.
Subscribe to Our Newsletter
By submitting this form, you are consenting to receive marketing emails from: Comet, 700 Collip Circle Suite 209, London, ON, N6G 4C4, CA. You can revoke your consent to receive emails at any time by using the SafeUnsubscribe® link, found at the bottom of every email. Emails are serviced by Constant Contact.